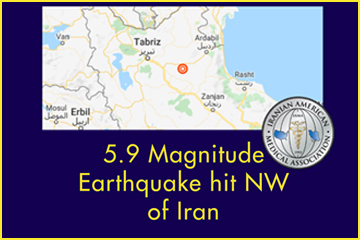 November 8, 2019
Dear members and friends of IAMA,
With great sadness, we heard today about an earthquake in the Northwest
part of Iran.
IAMA healthcare professionals extend our deepest condolences to the
families of the deceased and our sympathy to all those affected.
We will follow the news and do our best to find out how we can help and
provide our humanitarian assistance.
Sincerely,
H. Shokouh-Amiri, MD
President of IAMA
Learn more:
https://earthquake.usgs.gov/earthquakes/eventpage/us600068w0/executive