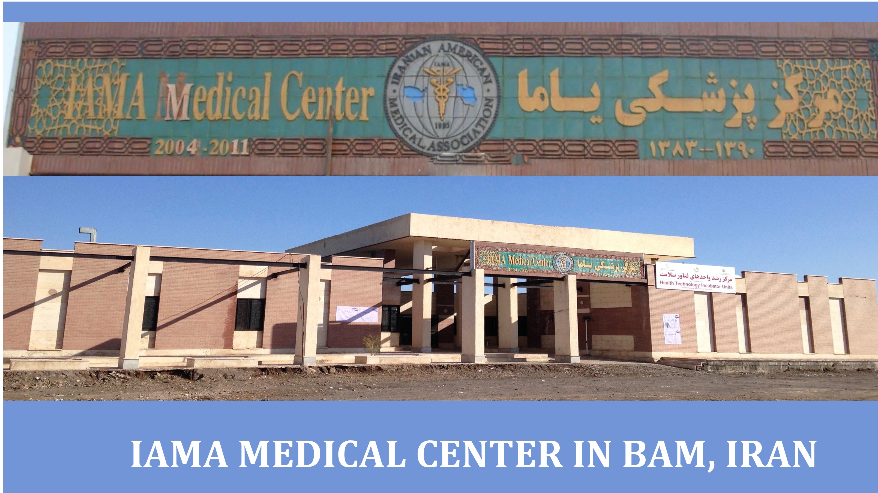 History of IAMA Medical Center & IAMA-NGO in Iran
After the devastating Earthquake of 2003 in Bam which took the lives of 28,000 people, IAMA decided to establish a Medical Center to serve the people in need in Bam and vicinity free of charge.
After fundraising, with many thanks to the donors, first, we had to find a proper location and land. Fortunately, with the help of Dr. A. Esmaeili, the chair of the City Council of Bam, city Council donated one acre of land in the area, which had already been allocated for teaching institutions such as Payam Nour University, Nursing college, hospital & also IAMA for its purpose, which all are functional. Later on, this donation was increased to two acres of land by the request of IAMA. On Behalf of IMA, I should thank Dr. A. Esmaeili & the members of the City Council of Bam at that time for their great generosity.
Then, we went through the routine procedure to get the permit to build the Clinic. Here again, all the processes were facilitated by the above people especially Engineer Ali Bagherizadeh, the Mayor of Bam city at that time, with special thanks to. After completing the building project, the Clinic was rented out to the University of Bam with one condition that instead of paying monthly rents, they could equip the Medical Center and at the same time use it as a medical teaching center
Then, we had to obtain the Deed for the property, however, we had a question, under whose ownership? Hence, we decided to establish an NGO for IAMA in Bam, which was a very lengthy & difficult process. First, we had to find many eligible people for being members of the Boards of Directors & Trustees of the NGO. They had to go through a very lengthy & difficult procedure like background checks for legal and security aspects of it and to be approved by the other governmental branches & authorities.
It took more than three years until all the processes were finished & approved. Here again, I should thank Dr. A Esmaeili, vice-chair of the board of Director & Trustee & Dr. Aliasghar Maghsoudi, member of the Boards and Secretary-General of IAMA-NGO in Iran. We were not able to take any of these steps without their help. Again on behalf of IAMA thank you very much for a great job.
The members of the Board of Trustees (BoT) are Dr. A. M. Mirzaie, chair, Dr. A. Aba-Sahl, Dr. A. Esmaeili, Dr. R. Farid Hosseini, Dr. A. Ganchi, Dr. A. Maghsoudi, Dr. A. M. Mirfakhraie, Dr. J. Moshirpur, and Engineer V. Sabbaghian.
Members of the Board of Directors (BoD) are Drs: A. Aba-Sahl, J. Baharmast, A. Esmaeili, Armita Esmaeili A. Ganchi, A. Kazerooni, A. M. Mirfakhraie, J. Mirfakhraie J. Sharifi, and Engineer V. Sabbaghian.
At the same time we have been securing the OFAC (Office of Foreign Asset Council) to keep our permit to send money back & force & equipment to Iran for Humanitarian Purposes, and also secured the Deed of the Bam Clinic property under the name of IAMA-NGO in Iran.
At the end on behalf of IAMA. it is my great pleasure to thank all and every member of the Boards in Iran, especially, Dr. A, Esmaeili & Dr. A. Maghsoudi for their tireless dedication and efforts.
Founder & Chair of Trustee of IAMA,
Amir Ganchi, MD
Gallery